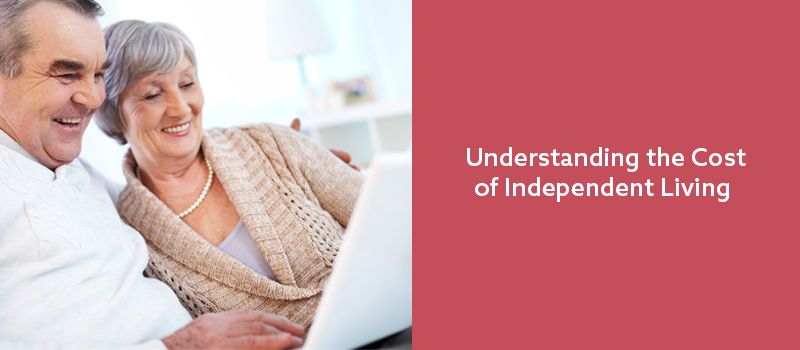 If you're considering independent living for yourself or your loved one, we can guess what your next question is: What is it going to cost? Maybe you're wondering what your options are. Perhaps you just want to be around other baby boomers who share your background and interests, and you want to know if you can afford to make the move. Before you can start assessing the costs of independent living, however, you need to narrow down the many options involved.
What Do the Various Independent Living Options Cost?
More than with any other type of senior care, those looking for independent living have a wide array of options available. The type of community you choose will have a significant effect on the costs involved. Take a look at the most common types of independent living and the costs involved in each.
Active Adult Communities and Age-Restricted Communities
These communities, which are typically targeted at baby boomers, often combine single-family homes, condos, and apartments. They often feature significant recreational amenities and opportunities for social involvement.
Often these communities look on the surface like other master-planned communities — until you realize everyone is at least 55. The finances involved are also like moving in to a master-planned community. Often most of the residents purchase their houses or condos in a real estate transaction that looks like most real estate transactions, except for the age restrictions. Renters may rent from the community or from individual homeowners.
As with any real estate development that has a homeowner's association, you can expect to pay a monthly membership fee or dues to cover the community costs. This fee might run as low as $300 per month or as high as $3,000, depending on the community's location and amenities.
What does that fee cover? Certainly it will cover all exterior maintenance, including landscaping. It's likely to cover most of the recreational facilities and amenities. Some active adult communities host commercial enterprises that charge fees for service, such as beauty salons, barber shops or restaurants. More expensive amenities, such as golf courses or tennis courts, may also incur separate charges — this is to avoid charging all residents for pricey amenities that they don't use.
The combination of mortgage (or rent) and membership fees can vary greatly depending on location, ranging from as low as about $1,500 a month to over $6,000 a month. Expect to pay higher prices if you're looking for a community in Connecticut, Maryland, Massachusetts, New Hampshire or New York, where the median costs run between $3,500 and $4,000. If you're counting pennies, head to Illinois, Louisiana, Minnesota, South Dakota or Utah, where you can find active adult communities in the $1,500-$1,800 range.
Senior Apartments
There are two basic types of senior apartments: Age-restricted apartments, and apartments reserved for low-income seniors.
Age-restricted apartments are allowed under the Fair Housing Act to restrict rental by age, so only those 55 and up (or in some locations, 62 and up) have access to the apartment complexes. These might consist of a single building on a city block or a retirement community with substantial amenities. These are essentially active adult communities in which everyone is a renter rather than a homeowner. You can expect to pay the going rate for apartments in your neighborhood.
Apartments for low-income seniors can include:
Section 8 low-income housing, with seniors using Section 8 vouchers to pay part or all of the rent

Public housing in buildings designated for low-income seniors

Private apartments that reduce their rates for seniors, often through funding from the Department of Housing and Urban Development
Rents in these low-income apartments still vary according to region, but they're strictly limited based on the fair market rents in the area. You may be eligible for public housing if your income is 30 to 80 percent of the median family income for your area. Local public housing agencies can explain more about eligibility and fair market rents for your area.
Continuing Care Retirement Communities (CCRCs)
These communities provide a continuum of care from independent living to assisted living to skilled nursing facilities. Adults can stay in their larger community even as their physical needs change.
Because CCRCs are so comprehensive, it's no surprise that they're also the most expensive independent living option. Expect to pay a significant entrance fee to join a CCRC — anywhere from $100,000 to close to $1 million. That hefty fee doesn't necessarily limit CCRCs to the very wealthy, however, since most people fund it with the proceeds of the sale of their family home.
Monthly charges vary greatly at a CCRC, depending on the answers to several questions:
What type of housing are you looking for? (studio apartment, 1-bedroom, 2-bedroom, etc.)

How many people are moving into the facility? If spouses are moving in together, fees will be higher.

What medical needs do you have? How healthy are you? Because CCRCs include medical care, this becomes a factor, unlike in other independent living options.

Do you plan to rent or buy? Some CCRCs allow you to purchase your residence, which may make a difference in your tax situation.
Those monthly charges typically rise at a rate of about 4 to 6 percent a year. That can add up over time, so you should crunch the numbers to see if your anticipated income from Social Security, investments, pensions, and annuities will still cover it 10 or 20 years in the future. In addition, check to see if the CCRC has any caps on the amount monthly fees can increase each year.
The other key factor in the cost of a CCRC is the type of contract you sign up for. Three different kinds of contracts exist for CCRCs. The specific facility you're looking at may offer all three or just one.
Life Care Contracts.
These contracts are the most expensive, but also provide the greatest peace of mind for you and for your family. Under a Life Care contract, your monthly maintenance fee remains stable no matter what kind of care you need in the future.
If you need an in-home caregiver, it's covered. If it comes time to move into assisted living near you or a skilled nursing facility, it's all covered. You have unlimited access to all the health care the CCRC can provide, all for the same fee you paid when you first moved in.
A Life Care contract, not surprisingly, requires the largest buy-in upfront, sometimes rising into the high six figures. If you can afford it, it's a good choice for couples, who may end up developing different medical needs at different times. In addition, it protects your family from rising costs in the future.
Modified Contracts.
Under this type of contract, you receive specified services, mostly medical services, for a given amount of time. Once you hit that time limit, you still have unlimited access to the services, but now you have to pay a higher monthly fee. Typically, the fee you pay is still quite a bit lower than what you'd paid for the same services outside the CCRC.
Sometimes a modified contract covers a certain number of days per month of health care — say, 15 days a month of skilled nursing care or assistance with the activities of daily living (grooming, bathing, dressing, etc.). After that, you have to pay the fees yourself. Before committing to this type of contract, it's a good idea to look over your health insurance policy to see how what it covers dovetails with the services you'd be paying for.
Fee-for-Service Contracts.
The upfront enrollment fee is the lowest with this choice of contract, but there's a trade-off down the line. Should you need the assisted living or skilled nursing services available in your CCRC, you'll have to pay for them at market rates.
With this type of contract, you're essentially making a bet on your health. Fee-for-service contracts start out as relatively inexpensive initially, but they have the possibility of becoming extremely expensive, should you need extensive amounts of health care.
Joining a CCRC is a financially complex transaction that requires a lot of money, so it's important to consult with your family and your financial consultant or accountant before taking this step. Your financial advisor or attorney should review the CCRC contract before you sign it.
In particular, review the clauses in the contract that deal with difficult issues. For instance, what if you choose a Modified Contract or Fee-for-Service Contract, and you become unable to pay for medical care? While most CCRCs have a fund in place to help residents in these circumstances, in some cases, the CCRC could discharge you and force you to leave your home. In other communities, the CCRC stays committed to your care even if you become unable to pay.
If you move in with a spouse and don't have a Life Care contract, you might have another dilemma to face. What happens if your spouse requires a higher level of medical care but you don't? In some cases, the CCRC will move your spouse to assisted living and leave you in your independent living home — but charge you for both.
Continue to explore other difficult scenarios by looking at the refundability clauses of the contract. If you choose to move out, will you get some of that entrance fee back? What happens if (God forbid) you or your spouse should pass away? Is there a refund due to your family in that case? Often a variable refund amount is included in the contract, based on how long you've been in the community and other factors. You can also often pay a slightly higher entrance fee to lock in a guaranteed refund.
You should also do some due diligence on the CCRC you're considering itself. When you join a CCRC, you're making a commitment that could last for decades, and you want to make sure the facility is going to be financially viable many years down the road.
Senior Co-Housing
These communities feature two to four dozen homes centered around a common outdoor area. They also share indoor living space usually in the form of a common house that includes a shared kitchen, guest rooms, and other facilities such as media rooms or art rooms.
Members of a co-housing community buy their home in the community and their share of the common property in a standard real estate transaction that similar to buying into a condo community. Buyers can expect to save anywhere from $70,000 to about $350,000 compared to a private real estate purchase.
Cruise Ship Retirement
This exotic option can be pricey, yet some active adults build up loyalty points on a cruise line and use them to defray the cost of traveling and living on a cruise ship. Plan on at least $100 a day (or $3,100 a month), which covers small accommodations, all meals, housekeeping, laundry, entertainment and activities that can be lavish indeed. Basic medical care is also available 24/7, and it's reimbursable by Medicare if the ship is within 600 miles of a U.S. port — though seniors with significant medical needs may not be able to get the care they need.
The Village Movement
This independent living alternative lets active adults age in place in their own homes while joining a membership-based "village" that provides discounted services including home health care, home maintenance, and meal delivery. Members typically pay about $300 to $600 per year to belong to the village.
Resources to Help Pay for Independent Living
Generally, you should expect to pay for independent living community costs out of your own pocket, just as if you were in a residence that's not in an independent living community. If you should need in-home medical care, a long-term care insurance policy could help pay those costs, and veterans can receive some assistance from the Veterans Administration. If you or your loved one are eligible for low-income housing, you may be able to receive some governmental help.
Many seniors are able to transform their life insurance policies into cash through a life settlement agreement. While this financing method provides money when you need it, all the proceeds of the life insurance will go to the company, rather than to your original beneficiaries.
Sometimes family members contribute toward the purchase of a home in an independent living community by supplying the down payment for the purchase, and/or paying the mortgage, while the senior living in the community pays for the monthly fees and other expenses. The family members can then inherit the property easily, since their name is on the deed, and are able to treat it as an investment.
Review our other articles on independent living:
To find memory care communities near you, enter your city or zip code in the search box below.