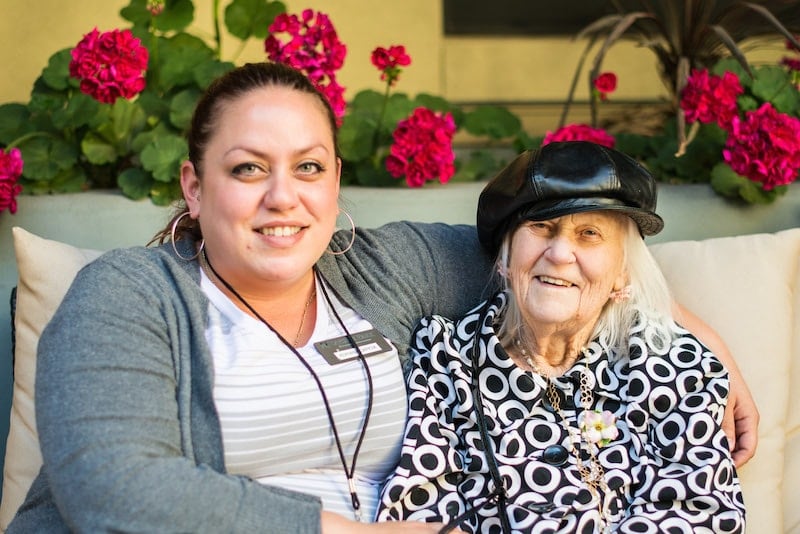 Most of us would like to live at home for as long as possible, but at some point we may not be able to do that safely without help. One option is to move into into senior housing, such as assisted living. Another option is assisted living at home. So what are the differences between assisted living in a senior community and assisted living at home?
Whether at home or in a housing community, assisted living is an intermediate step for those who need help, but don't require intensive medical care.
Assisted living in a senior community can have many benefits. Opportunities for socializing and physical activity are easily accessible, and things like meals, housekeeping, and help with daily tasks like dressing or bathing are part of the package. Sometimes limited medical care is also available on site.
But, it's not home without the comfort of familiarity, memories and privacy. In a community setting, you also lose some independence and control when it comes to scheduling and routines.
What's available at home?
Many of the benefits of assisted living can be provided at home by some combination of family members, paid caregivers, and community-based services.
Professional services available at home include:
Home visits from a variety of medical providers such as physicians, nurses, dentists, etc.

Social workers to assess your need for services and help you access them

Diagnostics such as blood tests and electrocardiograms

Home health aides, personal care assistants, and homemakers

Home-delivered meals

Medical equipment
In-home services can be supplemented with visits to adult day programs that provide social activities, meals, and help with toileting and taking medication. Day programs can also give family caregivers a break. Adult day programs are generally open during regular business hours.
Cost
The cost of home care and the burden on family can be more or less than assisted living in a senior community, depending on how much care you need.
According to the 2012 Metlife Survey of Long Term Care average costs for assisted living, paid in-home caregivers, and adult day programs in California are as follows:
Assisted Living

($ per month)

Home Health Aide

($ per hour)

Homemaker

($ per hour)

Adult Day Programs

($ per day)

San Francisco

$4600

$25

$25

$77

Los Angeles

$2700

$20

$19

$72

San Diego

$3800

$21

$21

$75

Rest of California

$4000

$22

$20

$77
The cost of assisted living typically includes housing, utilities, food, assistance with things like bathing and dressing and daytime supervision and activities. However, this can vary by residence. For example, laundry services, cable TV, or Internet services may cost more when added to the basic rate at an assisted living community. Fees may also vary depending on how much help you need with the basic activities of daily living such as showering, eating, and toileting.
The monthly cost of a combination of home health aides, homemakers and adult day programs will vary by individual. The figure below compares the cost of various levels of home care to a monthly median cost of $3500 for assisted living. Home care costs are based on $20/hour on average for a home health aide, $19/hour on average for a homemaker, and $65/day on average for adult day care. Data are national averages from 2014.
While in-home care can be more expensive than assisted living in a senior community, it depends on how much care you need. For the majority of scenarios shown here, the cost of assisted living at home is comparable to or less than assisted living in a senior community. It is only for those who need the most intensive care with many hours a day for most days of the week, that the cost of assisted living at home is more.
While senior housing may be preferable for safety, cost or easing the burden on family caregivers, there are benefits to assisted living at home that should be taken into account when making a decision about what's best for you and your family.
Research has found that most people prefer home care and, as shown above, it does not necessarily cost more. Home care can also shorten hospital stays, prevent readmission, decrease functional decline and reduce the need for long-term care in an assisted living community.
For more information on assisted living at home or in senior housing, check out these links:
Assisted living and in-home care compared
Social life for seniors: why assisted living is better
And resources on Seniorly.com:
What is Medicare, Medi-Cal, and Senior Care at Home?