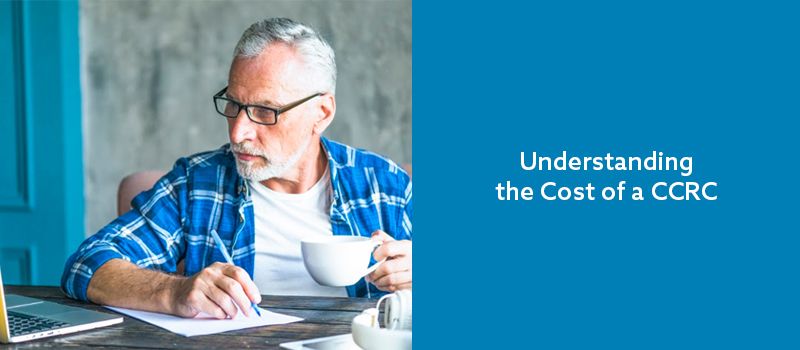 Most seniors hear the phrase "aging in place" and immediately think about making home modifications and changes so they can grow old in their own homes. However, continuing care retirement communities (CCRCs) offer another way for aging adults to enjoy aging in place and provide different senior housing options and levels of care on a single campus. Several years ago USA Today reported that more than 600,000 seniors were choosing to live in CCRCs, and those numbers have been growing since most seniors love the idea of being able to stay within the community, even if their health and care needs change.
CCRCs offer an appealing option for independent seniors who want to enjoy an active, community lifestyle while preparing for the future. However, understanding all the costs of a CCRC can be a bit confusing. What fees do you have to pay to live in a CCRC? What do the fees cover? What happens to your money if you pass away or you have to leave the community? Here's a closer look at the costs associated with living in a continuing care retirement community, information on the available contracts, and a look at some tips for paying for life in a CCRC.
CCRC Entrance Fees
One of the biggest costs that comes with living in a CCRC is the upfront entrance fee. This is a one-time fee that may or may not be partially or fully refundable, depending on your contract. Entrance fees vary greatly and can run between $100,000 and $1 million. The amount you're paying up front for entrance fees depends on the location and size of the unit you've chosen and may include a certain amount of money towards your care in the future.
According to LongTermCare.gov, your one-time entrance fee may not be refundable. However, some communities are willing to offer full or partial refunds in certain circumstances. For example, Forbes reported that if you decide to move or pass away within a certain period after you move in, your entrance fee may be partially or wholly refundable, although that fee could be held until your spot has been filled.
Monthly CCRC Fees
Along with the up-front entrance fee, you'll also need to pay monthly fees while you're living in a CCRC. Fees can vary greatly but usually range between $2,000 and $4,000 per month. Monthly fees are affected by the type of housing you've chosen, the contract you've signed, and the amenities that are available.
It's important to note that monthly fees often go up, increasing with inflation. According to Kiplinger, monthly fees generally increase between 4-6% annually while you're still in the independent living unit of a CCRC, and it's possible to see even higher increases in monthly fees if you've moved to skilled nursing or an assisted living nearby within your community.
The Potential for Additional Fees
Even though you've already paid an entrance fee and you pay a monthly fee, there are still fees you may be asked to pay for services that aren't included in your CCRC contract. When you're considering a CCRC, it's a good idea to ask about things that won't be included in your contract and what they will cost you. These may include things like transportation, meal plans, health care, housekeeping, assistance with daily living activities, beautician services, and more. Identify the services that may have additional fees before you sign a contract and consider how much they'll cost. Some of the potential miscellaneous continuing care costs you may need to plan for include:
Pet deposits (if pets are permitted)
Wellness programs
Maintenance fees
Late charges
Waiting list fees (if there is one)
Internet and television
Utilities and phone
Parking fees
Storage
Different Types of CCRC Contracts
When it comes to the cost of living in a continuing care retirement community, the most significant factor affecting your costs is the type of contract you sign. There are three basic types of CCRC contracts and they come with different risks and benefits. These contract options include:
Fee-for-Service Contracts: With a fee-for-service contract you'll only pay for the services you use while living at a CCRC. However, according to the AARP, while these contracts come with the lowest enrollment fees, they have the highest risk because skilled nursing and assisted living costs in the future will be paid for at market rates.

Extensive Contracts: An extensive contract includes your housing, amenities, residential services, and unlimited long-term care, providing for the prepayment of your medical expenses. In many cases, this contract is referred to as a "Life Care" agreement. You're guaranteed all the care you need, and while this is a low-risk contract, it's the type of contract that comes with the highest upfront costs to you. The U.S. Department of Health & Human Services estimates that approximately 43% of CCRCs offer this type of contract option.

Modified Contracts: Modified contracts are very similar to the extensive contracts, but your care coverage has a limit of a specific number of days. If you go beyond that number of days, then you'll pay for additional services out of pocket. It is right in the middle of the other two types of contracts when it comes to risk and cost.
How Can You Afford Living at a CCRC?
While the idea of a large entrance fee along with additional monthly fees may seem overwhelming, there are multiple ways to afford living at a CCRC if it's an option that fits your needs. You can pay for a CCRC in several ways, such as selling your home or using your long-term care insurance if you eventually need to make the move to the assisted living level of care. In some cases, Medicare may pay for certain services needed while living in a CCRC. To determine whether it's an affordable option for you, it's a good idea to ask CCRCs you're considering for audited financial statements and work with your financial advisor to evaluate the costs versus your assets.
Review our other articles on CCRCs:
For more resources on senior living, click here.
To find a CCRC near you, enter your city or zip code in the search box below.