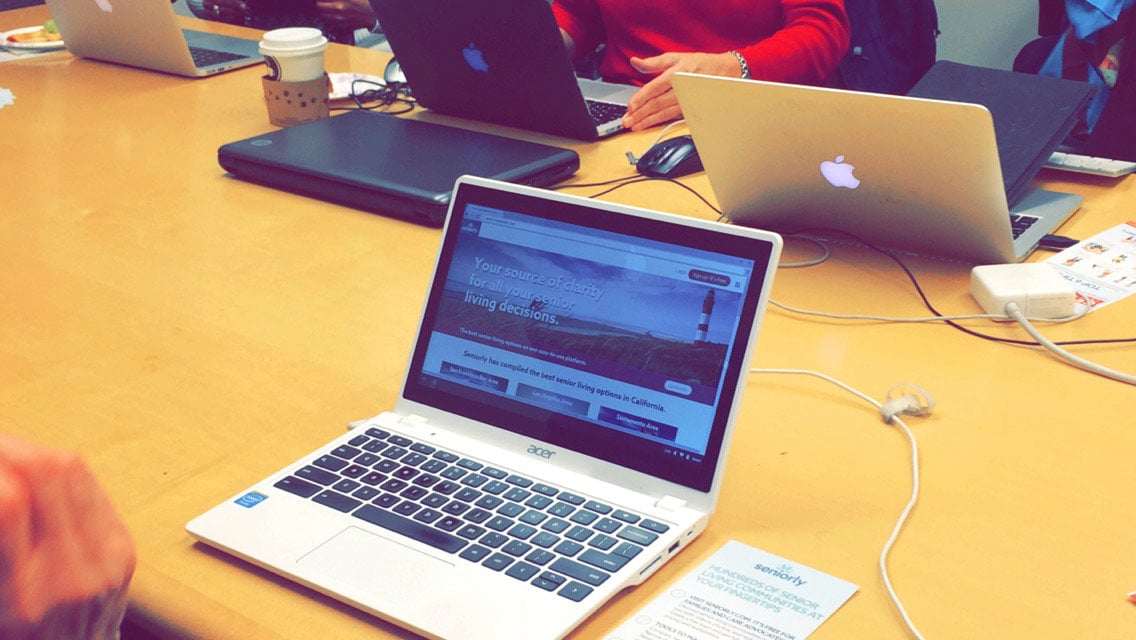 On March 10, 2016, Seniorly held a Senior Housing Focus Group in Berkeley, CA. The main goal of the event was to learn about online habits and preferences for seniors; we also asked participants to test out the Seniorly website and provide feedback on new features and the overall user experience. Fifteen volunteers from around the Bay Area stepped up to participate in the event, and their feedback challenged us to reconsider our services from a new perspective.
CEO & Founder Arthur Bretschneider started out with an introduction to Seniorly, and then asked some general questions about online usage in order to gain a better understanding of our participants' comfortability levels. We found that this group of individuals was extremely tech-savvy; they admitted to searching for health information online via sites like Kaiser Permanente and One Medical, and utilizing online resources like Amazon for all of their purchasing needs. Responses also showed that most seniors used smartphones, shopped through online retailers, consulted Yelp, used YouTube, and book restaurant reservations on OpenTable.
We had a lively discussion about word-of-mouth referrals, and then asked the group to share their input about what aspects are most important in recommending their sites to friends and family. The group agreed that a strong mission statement is a major factor in developing trust between a company and potential customers. Responses also showed that most seniors used smartphones, shopped on Amazon, consulted Yelp, and book restaurant reservations on OpenTable.
At the end of the event, we spoke one-on-one with participants about their experience on Seniorly.com, and received some really helpful feedback. Over the next few months, we will be updating our website to respond to these suggestions, and develop a more streamlined search experience for Seniorly families.
We'll be sharing photos and videos from the event on our social media channels. You can follow along via our Twitter, Instagram, and Facebook accounts. To learn more about Seniorly and the event we hosted in Berkeley, check out this short clip from KCBS:
Feel free to check out the site for yourself, and email any feedback to info@seniorly.com. We love hearing how we can improve!