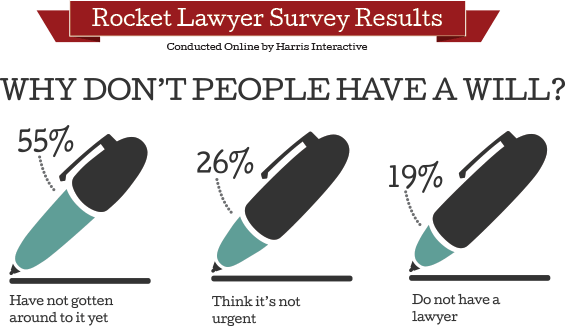 Everyone should have a Will, yet plenty of Americans have excuses for why they don't have one. Some think it's too expensive, some worry that they don't have a lawyer to help them, and a full 55% say they just plain haven't gotten around to it yet. All of that's understandable, of course: most people worry that dealing with lawyers and creating legal documents is going to be time-consuming, stressful, and expensive.
It doesn't have to be.
By educating yourself up front and understanding how an estate plan works, you can save yourself a ton of time. And by creating your estate plan online, you can save yourself a lot of money. Rocket Lawyer can help.
In this comprehensive guide to estate planning, we'll cover the entire estate planning process, from writing a Will to how to distribute your plan to your family and doctors. We'll let you know how each document works and help you decide what's right for you. And whether it's avoiding probate, bequeathing a family home to your children, or making ure your doctor knows your last wishes, we'll help you understand how to make your estate plan do exactly what you want it to.

Rocket Lawyer is also celebrating "Make a Will Month" by offering affordable ways to create your Last Will and Testament online. Expert lawyers are available by phone or email to assist you during the estate planning process.
[Disclaimer: This article originally appeared on Rocket Lawyer's Everyday Law Blog. It appears here with permission.]
~
At Rocket Lawyer, we want to change things by making legal services affordable, simple and available to more people than ever before. Every day we spend our time and resources making it easier for people to get the legal help they need, so they can focus on what's really important—taking care of their families and building strong businesses.
We combine free legal documents and free legal information with access to affordable representation by licensed attorneys. With Rocket Lawyer On Call, you can create a Will for your family for free or incorporate a business free from legal fees. Then, because we know there's no replacement for qualified counsel, local attorneys are here to help when you need more guidance. With Rocket Lawyer you never have to go it alone. Our commitment to affordable and accessible legal services is at the heart of everything we do.