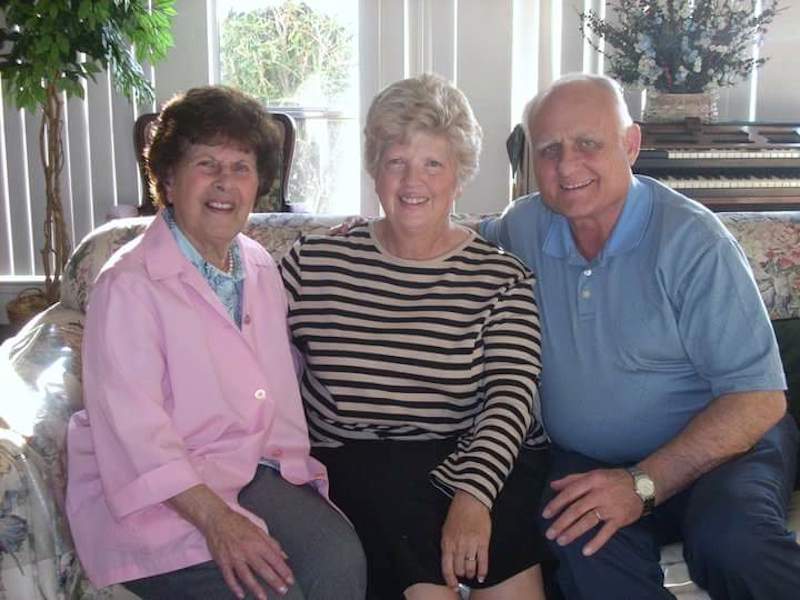 Editor's Note: This is a personal story shared by William Jackson Bailes, the son of one of Seniorly's regular contributors.
I remember a weeklong trip to Branson, Missouri. If you don't know about Branson then I can only relate it to other cities such as Orlando and Gatlinburg. In the southeast of America you can usually find one city in each state whose whole existence is tourism, and this city does everything it can to make sure every family finds some over-priced quick fun. The streets are littered with go-kart and mini-golf establishments. And you will always be able to find a hotel on each block. Of course, we can't forget each city's happiness sold by the pound, the amusement park. Branson's was called Silver Dollar City. And it was all I could think about when I heard we were going on vacation there. It was my only goal. Any thirteen-year-old boy would agree—a nine-hour trek in a minivan with enough pieces of luggage for three family vacations and six souls. I was the youngest person in the van, and by a longshot. As an only child I was surrounded by people who were always very much older than me. Otherwise, I had my cousins and friends. But most of the time it was adults who were around me.
We were living in Chattanooga, Tennessee, at the time. My dad's parents lived just down the block from us and my mom's mother lived in a little apartment attached to our house. We had refurbished a plain empty space when we decided to fly my grandmother out from California to live with us. Clearly, you can assume that my grandparents were very much in my life, and you would be right.
As far as my grandfather is concerned, I'm still amazed at how well my Papa can organize a large amount of luggage into one car and still leave room for every passenger to sit at least a little comfortably. He has had a lot of practice and can be considered a master at packing a car.
My dad's parents, John and Sandy Bailes, were missionaries who love to travel. My dad likes to joke that his side of the family descends from gypsies. You can bet that with four boys and one girl, they had interesting family road trips. To this day they always make sure they visit each child and their family at least three times in one year. I honestly don't know where they get this energy, but they have never been ones to stop and settle down for a while. Other than my dad, there wasn't one child who did not end up having more than one child of their own, so our family reunions are always a little hectic but very fun. It actually took me until age seven to learn all my cousins' names. My Nana and Papa, what all of us Bailes' grandchildren call them, try and keep our family connected and close even if we are states apart.
Along with Branson we would be going to a nostalgic spot for my mom and her mom, Pauline Means. A little cabin sits in the Ozarks of Missouri. It once was the home of the grandfather I never met, Leslie Means. It's placed in a little meadow and surrounded by vegetation. A little creek runs parallel with it too. Seeing it would make you think it was the inspiration for Where the Red Fern Grows. My grandfather had also built a farm next to his family's cabin.
I called the grandmother on my mom's side Nanny. After I was first born she helped take care of me whether my mom and dad needed it or not. She was one of the hardest working women I had ever known and always thought there was something else she could be doing to help and make things better. Her husband, my mom's father, the grandfather I was never able to meet, died when my mom was very young. My Nanny worked very hard to create a good life for my mom, but they still had struggles. My Nanny never took that as an excuse to stop working for a better life. Unfortunately they had to sell my grandfather's farm after his death.
In the van, stories were told and memories were cherished. One thing people love to do is share something from the past or a lesson or just something funny, or maybe just a memory whose significance alone grants it the right to be shared. Life is not easy and you are always going into it with no real knowledge of what to do. Most of the trials and tribulations that come your way teach you to figure things out yourself, and that's how a lot of people think is the best way to learn. But the phrase, "Those who do not learn history are doomed to repeat it," is very true. No one will ever live a life like your own. You would be surprised how similar each other's lives are though. My grandparents went through much more difficult things than I ever have. Listening to what they have done and the things they have seen and observed and what their thoughts are on it all after so many years can open your eyes to a new way of thinking and living your life.
It's hard to see the values in these stories when you're thirteen, but I heard a lot of stories on that van ride and have heard even more since. The value was there, but it just took me a few years to realize it.
We reached Branson and had our fun. Looking back at it, I would say that my grandparents could not do all the fun things that I was doing like going on fast rides at Silver Dollar City and doing laser tag and driving go-karts, but they still came with us. They sat and watched me have fun, and they found enjoyment by watching their family enjoy themselves. Grandparents are selfless in that way. But I could not have imagined just watching someone else have fun as enjoyable. In fact I would have seen it as torture.
Our Grandparents, who are usually the eldest of the family, are often wisest and most experienced. I believe they come to a realization that the family they have created is the main thing they care about in life, that building a career and making a name is important, but family always trumps all. As a parent becomes a grandparent, with a family that keeps growing, it only causes their love to rise and expand even more. It is a happiness that you might have to develop over years, and I myself look forward to experiencing that.
When we drove onto the farm my mother and Nanny used to live on, we saw a coyote hanging from the fence as a warning to other coyotes. This was the true country, a place that modern America has grown out of and a place that is almost mythic but nevertheless deserves to be revisited and remembered.
The current owner of the farm was very kind and generous and let us explore the farm as much as we wanted. He even used his tractor to carry us across a creek so we could see the old cabin.
The cabin was falling apart and you had to wonder how it was being held up still. Inside it was a mess. I'd rather not call all the things that cluttered the cabin "old junk," but when you see it like that, it is what you think. Or that's what I thought when I was thirteen. My Nanny looked at it all and saw beauty, the beauty of a physical memory, something that could take her back to her life on this farm, to a golden time. Life always seems a little better when you reminisce. You appreciate it more. Seeing how much she enjoyed being back at the farm made me look at that "old junk" in a different way. Things might seem like "old junk," but they are connected to the memories of someone. And that junk has meaning to someone. It has value.
The owner told us he felt very bad that he'd let the cabin reach this shape and wanted to fix it up soon. My mother and Nanny told him he had no obligation and not to worry himself, as long as it was there, to visit. Its purpose was not to house and shelter. Its purpose was to help remember and to help someone relive, if only a little bit, our past.
We picked daffodils that grew wild near the cabin and then headed out. We visited with the Wagners, friends of the Means. They were a hunting family, and animal heads stuck out from the wall in almost every room. Also a rifle was posted on their porch that overlooked the backyard leading down to a forest. If you observed well enough you could see that the rifle was pointing at one spot where a dead coyote rested. I suppose coyotes might be a problem for the people in this area.
The Wagners had a cattle farm of their own. I spotted a cow that was fenced in. My Papa came up to me and began to tell me how when he was a boy living on a farm he would have to wake up very early in the morning, before the sunrise, and milk all the cows on their farm. I asked how many. I've forgotten the number he told me, but I remember the feeling of astonishment it gave me. I wasn't able to value the stories my Papa had told me the way I should have back then, but if they did anything for that thirteen year old boy it was make me appreciate the life I had and how good I have been treated.
On Sunday morning, we attended the church my grandfather, my mom's father, preached at years ago and which my great-grandfather helped build.
Faith and Hope church had changed little since my Nanny had last been there. It was a bit confusing; apparently the new minister had adopted the Jewish calendar and other rituals from the Jewish faith to integrate into his sermons, but he still remained a Christian minister. It didn't matter to my family. They were there to enjoy the nostalgic value of what the church had been to them. During the service a man with a white cloak on him sat in the front pew. As the service progressed he would yell out phrases that I could have only guessed meant he agreed with what the minister said. They ranged from a simple "amen" to phrases that made no sense to anybody in the congregation. After the service ended people mingled around, as is tradition, and the man with the white cloak told us he didn't realize people were behind him. We told him who we were, and he told us that he knew my mom's brother when they were boys.
The time had come for us to begin the journey back home. I had not enjoyed the drive out. I couldn't stand that van anymore. Cramped and no one around my age to talk too. I still shake my head at how when you're that young you don't realize that some think it's good to enjoy your family. In fact it's something a lot of people want and need. A good functioning relationship with your family's elders can be the best thing for your life. But like I said before, I was young and confused.
On the ride back something happened, something that helped me understand what many elderly have to go through. We were all sharing stories again as we always do, and my Nanny asked my mom, "Where is Ronnie, Dinah?"
Ronnie was my mother's brother. My uncle Ronnie had died in San Francisco not too long after I was born, so he never got a chance to meet me, his nephew. My mom looked at her mom and understood what was going on. My mother has worked with elderly all her life and career. When you work with the elderly you have to learn to deal with memory loss, and you have to understand how much mental and emotional pain memory loss can inflict and cause to a person. My mom calmly explained to her that Ronnie had died, and I then watched my Nanny have to learn about her own son's death for the second time in her life, something a mother shouldn't have to learn once let alone twice. As tears welled up into everyone's eyes my Nana Bailes and my mom began to comfort her. My dad's mother had always been someone you could go to and find comfort.
It made me very upset to see my Nanny have to go through that, and she had to go through a lot more with dementia as time went on. If you have to lose your past, if you have to lose your experiences and memories, then you are losing the things that make up you as a person.
When I understood what exactly was happening, it scared me like nothing else. I imagined it happening to me, and I had a fear that with the loss of my past I would feel that I had lost my value. A person, especially someone with so many years lived, should never feel that way. But we can remind them of their value, that they have lived a wonderful and full life, that we love them and will never stop.
On September 13, we will celebrate Grandparent's Day. This holiday does not get as bright of a spotlight as Mother's Day or Father's Day, maybe because each grandparent most likely was able and still is able to enjoy a parent's holiday. But being a grandparent is different than being a parent. Grandparents will show you why you should enjoy every moment of your life even if it seems stressful or difficult, that you will make it through. They help us remember what our world used to be like, and how much society and culture can change, but that people are still people making their way through life just the same, that things are simpler than they seem and that worrying about your future too much can make you forget the significance of your past, that your past is what makes you and is what will create your future. A grandparent wants only to love and care for their family, to spend time and make more memories to cherish.
On September 13, remember to share love with your grandparents. Show them they still have value and that you are thankful for all the things they do for you, from all the cookies and treats to the priceless invisible gifts we can never hold yet are more useful than anything bought at a store.
For more information on topics that matter to you, visit the Seniorly Resource Center and search by topic or keyword.