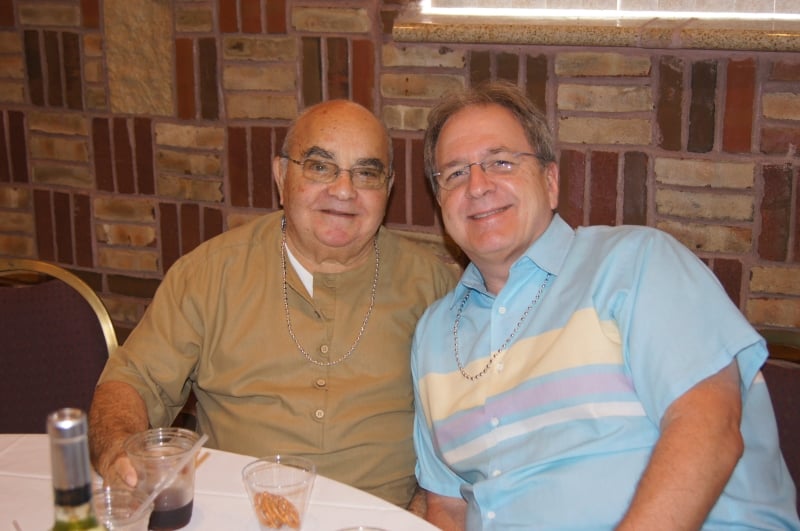 The Late Bernard Richard Schiffer and ChrisMacLellan
The Opinion Which Other People Have Of You Is Their Problem, Not Yours ~ Elizabeth Kubler-Ross
Along the way during our caregiving journey, I have been asked many times, "Are there any difference for same-sex couples in caregiving?" "No, not really," I would say, "as caregivers, we simply care for the one we love."
Caregiving is usually not something that is on our bucket list of things that we want to do; caregiving just happens! Suddenly, an untimely diagnosis is presented to us, or an unfortunate accident happens, and within a moments notice, two or more lives are changed and you are a family caregiver. That is why there are no gender or orientation boundaries when it comes to being a family caregiver, we simply care for the one we love when care is needed.
Caregiving can be an intense experience which will ask you to surrender yourself and your own needs for the needs of someone else. Often you have to give up things you love in order to care for the one you love.
Is there a theme here about love?
Sure, there are some things that all of us can do to make our caregiving journey "easier." Do you have your legal documents in place and up-to-date? That includes our Living Will, Health Care Proxy, Power of Attorney, DNRO (Do Not Resuscitate Order), Last Will and Testament. Having these documents in place and up-to-date and readily available is critical...for everyone, regardless of what side of the fence you live on!
However, I realize that there are some differences for LGBT caregivers. For instance, same-sex couples walking into a hospital emergency room are more likely to be "questioned" about the nature of their relationship whereas a man and a women, in the same setting, probably would not often face the same scrutiny. What is "funny" about this is that many of the unmarried heterosexual couples I spoke with after our 2015 Pulitzer Prize nominated story, In Sickness and In Health: A Couple's Final Journey was published last year did not realize that their rights as a couple we not protected under the law, because they are not married.
In our society, we do not like to talk about death and dying, and that is why many people go years without updating their important legal documents that will ensure their wishes are followed at the time when a life transitions. But when you get right down to it, rights granted by the laws of marriage are mingled with death and dying. Did you know that in every state of the nation the "next of kin" for an adult is the spouse? Once you've been denied the right to be with the one you love at the time of their death, only then will you fully grasp the meaning of marriage inequality. When medical staff ask who you are or determine you are not next of kin after your partner has died, clearly demonstrates the injustice.
Has an unmarried heterosexual couple ever been denied the right to be with their loved on at the time life transitions? My guess is probably so, especially when unscrupulous family members get involved. LGBT couples know about that experience, too!
Same sex couples have always known a marriage license is not needed to solidify love. However, this license does solidify equal rights. Bigotry and hatred, unfortunately, will always surround us, yet the "license" provides clear legal protection to all married couples, just as having all of our legal documents in place will do for each one of us.
Yes, there are some differences LGBT caregivers face, although the differences may be subtle to some, yet important to others; this issue is mind-boggling, yet fixable. While it is reported that LGBT seniors are more likely to live alone, more likely not to access medical services in fear discrimination, there are many straight seniors out there who live alone, need transportation, and fear going to the doctor. We are all in the same caregiving ship, trying to row upstream in waves that sometimes make it difficult to navigate. Why do our "systems" want to hinder care to anyone? That is the most puzzling question of them all.
While "systems" might treat LGBT caregivers differently, there is no doubt that care and commitment is the same for any two people who love each other, no matter what system you have to use, gender or orientation, or who you travel with on your caregiving journey. Because in the end, love wins.
P.S. If you have not had your legal documents reviewed by your attorney in the past two years, now is the time to do it pick up the phone, call your attorney, and update your documents. It is the right thing to do and will make your life easier down the road!
~
​C​hristopher MacLellan is affectionately known as "The Bow Tie Guy" in many caregiving circles. Faced with his partner's diagnosis of esophageal cancer in 2011, Chris started a caregiving blog entitled, "The Purple Jacket" and is an ardent advocate for caregivers and their careers through his blog and radio show, "Healing Ties™". Chris' Masters Degree thesis entitled, "Spiral of Silence: Caregiving, Stress and its Impact in the Workplace" was accepted by the faculty at Gonzaga University, where Chris earned a Master's Degree in Leadership and Communication in 2016. Chris is the founder of the Whole Care Network and the South Florida Caregiving Coalition. Chris is the author of "What's The Deal With Caregiving?" and a Certified Senior Advisor (CSA) and a Certified Caregiving Consultant (CCC). Chris presents regularly on topics that impact family caregivers and LGBT seniors.