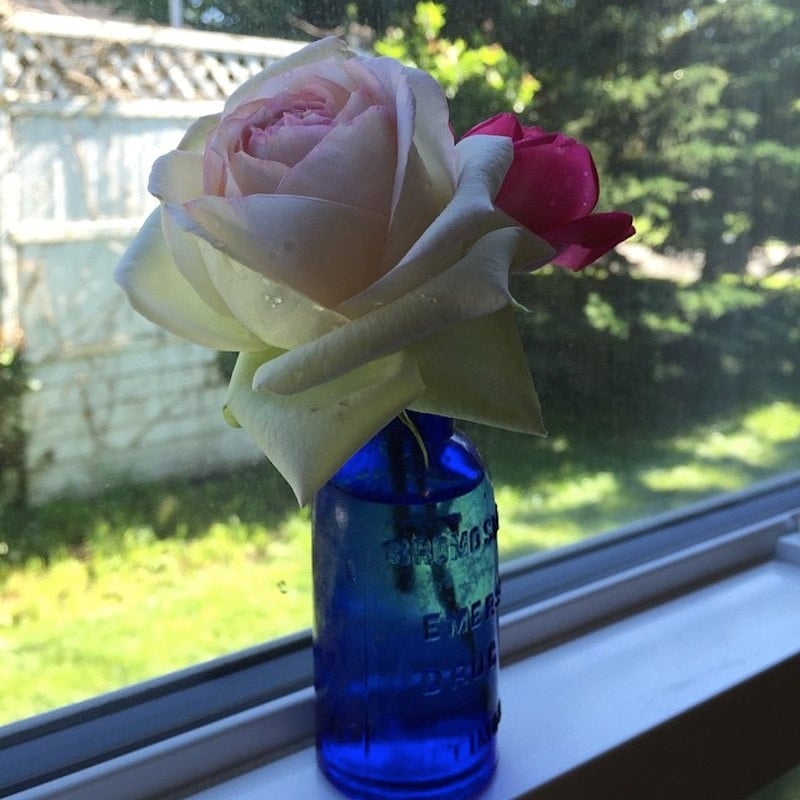 by Tryn Rose Seley
My friend from church had her grandfather living in their home for several months following the death of his wife. She has a huge heart, and army strength (literally, as a former officer), but it became too much to care for him on her own. His eyesight was failing, his walking ability became challenging; he was in good spirits, but frustrated with these daily struggles. My friend found a wonderful community that included the full range of care, from Independent and Assisted Living to Alzheimer's and Memory Care, so when he needed more support as time went on, he had it in place, and didn't have to move again.
This devoted granddaughter visited often, and recognized that he had good and not-so- good days. She remembered a poem that always made her grandfather laugh, and she recited it every time she visited to bring back his positive energy. She also left a copy of this poem on the table for all to see, and recite, and bring back his laughter whenever it was read aloud.
You may be on the journey to find an Assisted Living situation for your loved one. Think of Assisted Living as a selection on a menu, not a single option by itself; particularly when a person is living with Alzheimer's or another dementia, the need for more attention and support will grow, so find a place that has the full range of care.
Here are two tips when visiting a care community:
1) Visit unannounced, or call and make an appointment that very day.
Then you can see what happens on a typical day in regards to professional/client interactions, cleanliness, real life engagement (is everyone parked in front of the TV, or are there live musicians, exercise circles, art experiences, interesting conversations?). If you get the feeling that those who live here are treated with respect and kindness, this is the place for you.
2) Ask to see the Memory Care wing.
It ought to have a code for the entrance door, so clients are safe and secure. Do you see kindness, patience, enriching activity? Check to see if the caregivers are following their own daily calendar of events. I learned as a full-time caregiver that when the State comes to inspect a community (unannounced, usually, for the same reasons above), we could lose points for not carrying out our planned schedule. It's good that they paid attention to these details, because it kept us generating valuable experiences for our residents.
And here are a couple of move-in tips as well:
1) Keep your spouse, family member or friend occupied away from the care community so moving in is more seamless.
Can someone take him or her out for lunch while the movers or other family members set up the new room? When he or she walks in for the first time, and it looks and feels like home, it will be an easy "new home."
2) Set up the new space to look as much like his or her former home as possible.
This will bring stability and success. If you don't feel comfortable using her one-of-a-kind quilt, provide one with a similar color scheme. If you don't want to bring in an original painting, photograph and print a copy of his favorite scene. Write and include a short story about these things they love. "Jane is a quilter; she made quilts for all of her children and grandchildren, and donated ones to the infant wing at her local hospital." "Bill has fished the deep waters of the Atlantic, and loves the salty ocean air. This painting captures these adventurous times." Then anyone who walks into the room can strike up a conversation that brings back positive memories. You are remembering what this person loves, and highlighting these things for all to see.
When you inform the director, nurse, and caregivers about your loved one, they can learn how to love and value him or her just like you do. This creates authentic relationships, real trust, and more contentment in this new chapter of life. Everybody wins.
Tryn Rose Seley is a professional photographer and sought-after musician. She has supported the lives of young children, those with special needs, and elders with Alzheimer's and related dementias for over 25 years. She has written a caregiver book "15 Minutes of Fame: One Photo Does Wonders" on www.caregiverheart.com for Kindle, Nook, and as a pdf for any computer or device. You can follow her on facebook.com/caregiverheart. Tryn teaches "Mindful Art," an expressive arts class. All of her projects and offerings are designed to empower caregivers and the one they care for.