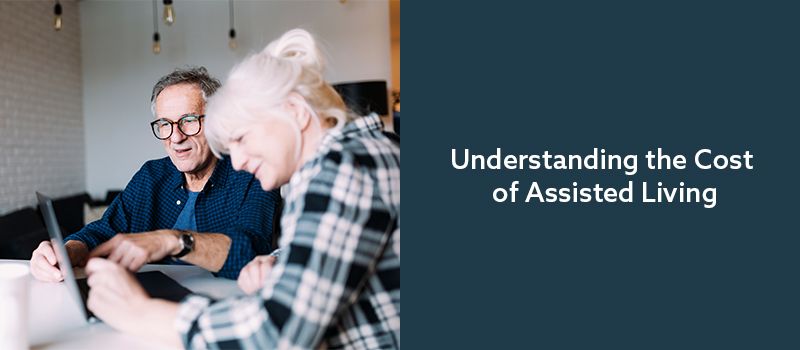 In 2018, the average cost of assisted living in the United States is approximately $3,750 per month; however, pricing for assisted living near you can differ. Assisted living includes room and board plus assistance with activities of daily living. When evaluating the cost of assisted living one should remember that you, or your loved one, can expect 24-hour supervision, housekeeping, 3 meals per day, and daily non-medical assistance as part of your monthly fee.
Assisted living can cost anywhere from $2,000 to more than $10,000 per month. Seeing the monthly price tag of even basic care is enough to make some families pass on assisted living altogether, assuming that at-home care is the fiscally responsible decision.
However, once you add up housing, meals, healthcare, social activities, and other amenities included in the monthly fee, many realize that assisted living can actually be the more affordable option vs. at-home care. Our partner, Holiday Retirement has a very useful calculator to compare the costs of living at home.
With over 30,000 assisted living communities across the United States (according to the CDC) there are many different types of assisted living communities at different costs. So, be confident that balancing cost and exceptional care for your loved one is possible to attain.
Before getting into the costs, it's helpful to first understand that assisted living pricing can be complicated. To get started let's start with some common pricing terms:
Community Fee: The community fee is a one-time fee charged by most communities. Communities typically use this fee to cover the administrative costs of residents moving in. Tip: Often this can be negotiated or waived.
All-Inclusive Pricing: This is the most straight forward form of pricing in assisted living communities. It is one rent to cover all monthly expenses. Tip: It is typical to find this type of pricing in small or family owned communities.
Monthly Rent plus Care Fees: This is sometimes a way that sales and marketing professionals will explain how their communities charge residents. The rent for the room and board is separate for the monthly cost of care services. There are two common types of Care Fees: (1) Levels of Care Fees and (2) Points System Pricing. In both cases the communities assess the level of care and use the applicable level or number of points to establish the monthly cost. Tip: Communities will reassess the level of care often, so be sure to understand what the monthly price ranges might be.
How Communities Differ Based on Price
Assisted living communities often choose to focus on delivering services focused on hospitality or healthcare. For example, some communities will cater more towards folks that don't need higher levels of care and are more interested in living a maintenance free and social lifestyle (think more hospitality). Other senior living communities focus on healthcare services to provide higher acuity and/or memory care services (think healthcare). Within both of the these categories, the communities can then be divided up into three different pricing levels: Basic, boutique, and luxury.
Basic Assisted Living Community
For many seniors, a no-frills lifestyle is perfect. Choosing a community with fewer amenities at a lower cost shouldn't equal subpar health care or comfort levels. It simply means not paying for what your loved one doesn't need.
Why spend extra for social activities, pools, larger living spaces, or extensive on-site health care if your family member prefers watching television and only needs minimal health care and supervision?
Basic assisted living communities often have limited options when it comes to food and activities. Housing units are small, sometimes shared, studio-sized spaces. But even with a lower price, any community worth considering will have impeccably clean facilities, friendly, well-trained staff, and up-to-date certifications. Be sure to research user reviews on Google, Yelp, Facebook and other sites.
Boutique Assisted Living Community
If you're searching for that perfect balance of price, amenities, and comfort, this is the sweet spot.
Boutique assisted living communities usually offer:
Comfortable, private living studios
24/7 certified medical staff
High-quality meal options
Exercise classes and facilities
Enrichment classes
Regular social activities
Choosing a boutique community is also ideal if your loved one has increased medical care needs. The higher cost often includes specialized staff trained in geriatric health. Nurses certified in memory care, nutrition, mobility, medication management, etc. are often on-hand to support your loved one anytime.
Luxury Assisted Living Community
Perfect for the senior who wants it all, or has increased care needs. Luxury assisted living communities offer a resort-style lifestyle combined with top-notch, around-the-clock medical care.
Expect a luxury community to provide:
Gourmet, restaurant quality meals
Beautifully manicured grounds
Modern multi-room apartments with kitchenettes
High-quality classes and social events
All-day chartered excursions
Premier exercise amenities like pools or yoga studios
Concierge services
Customized, premium health care is also a priority. Overall, expect more personalized care with a lower staff to resident ratio vs. basic or mid-level facilities. Full-time nurses, nutritionists, memory care experts, physical therapists, etc. are always on-hand for your loved ones needs.
In addition, many luxury level communities have on-site support options in the event of an illness or medical emergency. With the increased price comes the increased comfort of knowing your loved one is in incredible hands no matter what.
Differences Between Assisted Living Communities Based on Cost
| | | | |
| --- | --- | --- | --- |
| | Basic | Boutique | Luxury |
| Health Care | 24-hour non-medical care | 24-hour non-medical care | 24-hour non-medical + may have RN on staff. |
| Housing | Private and shared rooms | Suites, Studios, and 1-bedrooms | Luxury apartment-style living with full kitchenette |
| Meals | 3 home-style meals per day | Several healthy meal options daily | Multiple menu options in a restaurant setting |
| Activities | Little enrichment, exercise and social activites offered daily | Several daily classes, activities and all-day excursions | Large variety of daily activities, enrichment classes and exurcursions |
| Other Benefits | Affordable while providing quality care | Great balance of value and comfort | Residents enjoy resort-style senior living |

No matter the level of luxury you choose, any good community should feel safe and secure, with certified, caring staff members. No bargain is worth risking the well-being of your loved one.
Which Amenities Does Your Loved One Need Most?
No matter our age, we all have different needs and preferences. It's essential to accurately evaluate your loved one's top priorities at this stage in life.
Are they social?
Do they have specific medical needs?
Is being a short drive from family important?
Every community will focus on different specialties and meet different needs. Honestly and realistically consider which amenities and levels of care are most important. Use these priorities as a guide to help you decide where the bulk of costs should go.
How Do I Know What We Can Afford?
Determining an appropriate assisted living monthly budget is challenging. If possible, sit down with them and carefully discuss where their money for all living expenses goes every month. Review bills, receipts, transactions, etc. This includes (but isn't limited to):
Housing Costs
Monthly Bills
Taxes
Transportation
Food
Medical Costs

+Non-Medical Costs including any assistance with Activities of Daily Living (ADL)

Classes & Activities
Then, look into the costs of various assisted living options. Many communities employ all-inclusive pricing, while others offer each service "a la carte." The table below provides the average costs of assisted living in the U.S. Or you can use this interactive national map of assisted living costs by state and county.
Facts About Assisted Living Costs in the U.S. (July 2017)
| | |
| --- | --- |
| Average Cost | $3,750/month |
| Highest Average Cost | $6,700/month in D.C. |
| Lowest Average Cost | $2,700/month in Missouri |
| Average Length of Stay | 22 Months |
| # of Assisted Living Communities | 31,200 |

This cost of living calculator is also a great tool to give you a better ballpark estimate of costs.
Make sure to take into consideration the living expenses that will now be included in monthly assisted living fees. That initial sticker shock may subside once costs like transportation, food, bills, cleaning services, and medical care is rolled into one.
Ensure you thoroughly discuss with each community exactly what is included in your monthly fees. Also, ask what additional fees you should expect, like initiation fees, grooming & bathing, medication management, housekeeping, etc.
Adding up all current expenses against the expenses of at-home care vs. assisted living should provide valuable insight in choosing the best care your loved one.
Medicare, Medicaid & Other Financial Aid
Before you read any further, please look through our comprehensive resource on assisted living payment assistance beyond the private pay system. To access that information, click here. What follows below is just a high level overview. There are some financial aid options that might be able to help your loved one afford the level of care they deserve. The most common inquiries we get include:
Also, don't hesitate to talk to the assisted living staff about affordability options. Many properties have programs, strategies, or may even be open to negotiation, allowing your loved one to live in the perfect assisted living community.
Review our other articles on assisted living:
For more resources on senior living, click here.
To find assisted living communities near you, enter your city or zip code in the search box below.