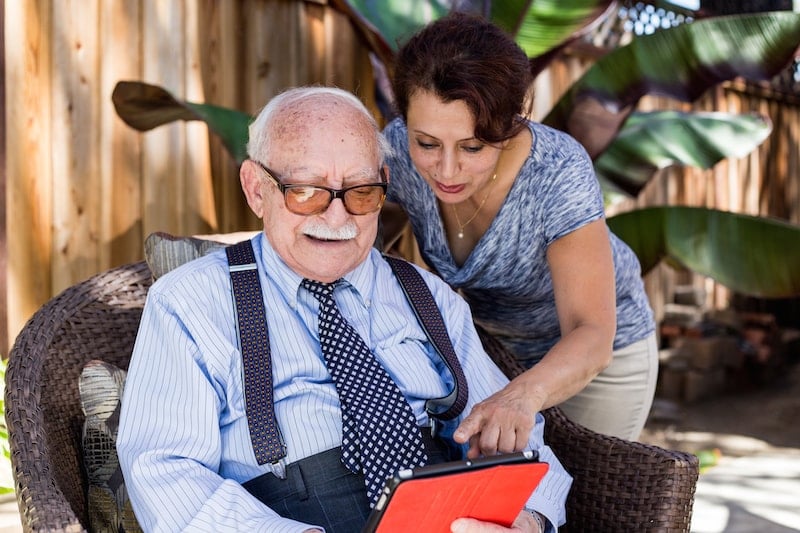 Who says technology is only for the younger generations?
Savvy companies are quickly becoming aware that assistive technology is an important component for older loved ones to learn, utilize and become comfortable with. Assistive technology is also integral to the future of medical care and monitoring for the elderly and the communities they live in.
Many companies are now introducing assistive technology designed specifically for an older marketplace. Today's aging population is reaping the benefits of these technologies, making it a smart business opportunity for forward-thinking entrepreneurs.
In that same spirit, AARP has launched the AARP Innovation Fund. It's a $40 million dollar fund looking to invest in small to mid-sized companies that have technological solutions specifically designed to better the lives of older people. The fund will mostly focus on technology for home use and in aging communities. Many of these new products assist the elderly with independent living.
The fact is that older Americans are now demanding the same benefits that technology bestows upon all of us. That makes them a huge, underserved market and a great place for future investments.
The best assistive technology for elderly loved ones
If you've visited an assisted living facility near you, you may have noticed that many elderly people enjoy the iPad and tablet, but still have some issues with using the complex system. As an alternative, the Grandpad is a modified android tablet with a much simpler interface and live 24-hour support with the touch of a button. It was designed specifically for older consumers, and is a great way to get them "plugged in" to all the Internet has to offer.
CEO and co-founder of Lively, Iggy Fanlo, developed another pioneering gadget for the elderly. It all started when he didn't like the way people looked at him when he wore an emergency pendant around San Francisco for a few days. This experience may explain why of all the elderly people who purchase pendants like Life Alert, only 14% actually keep wearing them. So Fanlo came up with a product he thought elders would want to wear. It's a waterproof watch that displays time, counts steps and calls for help when users press a big orange button. Unlike the Apple Watch, it's uncomplicated, easy to use and makes calling for help a priority.
Another innovative, independent living technology new to the market is BeClose. Using discreet wireless sensors placed in the home, BeClose tracks an elderly person's daily routine and family caregivers are able to check on them at any time, using a private, secure web page. If there are disruptions, remote family caregivers will be alerted by phone, email or text message.
Smartphones continue to be improved upon to become more elder-friendly. Many models now have larger buttons and readouts, as well as speed dialing options and voice recognition. They may also help perform important safety functions like GPS tracking and medication reminders.
In addition, older Americans and their families are turning to new medication dispensing systems. These are automated assistants that are stocked by caregivers or loved ones with several days' worth of medications. The system provides reminders when it's time to take a medication and can even notify caregivers if a dosage is missed.
These are just a few examples of recent assistive technologies on the market for the elderly. To learn about more ways tech can help improve the life of your loved one, check out this Seniorly blogpost.
Trust Seniorly for more information on aging with vitality, the best communities for retirement and how to care for your loved ones in need.
Sources:
http://www.today.com/money/seniors-love-technology-too-some-companies-are-starting-notice-t9856