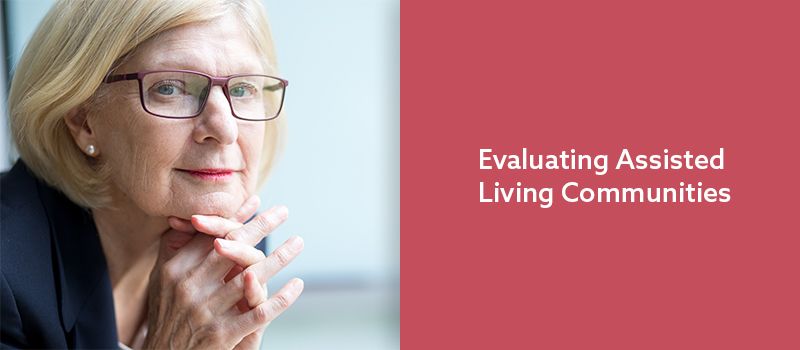 After you decide that the services offered at an assisted living community are the right match for you or your loved one, the next step is to figure out which community is the right fit. In the US there are more than 40,000 assisted living communities available. They come in many shapes and sizes, from small homes to large hotel-like properties. Some focus on luxury services, others focus on high levels of care, and some specialized in Alzheimer's or dementia care (commonly known as 'memory care').
So the big question is how do you evaluate your options so you make a good decision? This section will walk you through the process. But first read these important introductory paragraphs. The big takeaway: visit the communities you are interested in. You may want to visit 3-5 communities before you make a decision. This is another reason to plan a bit earlier so you aren't in a rush when making that decision.
You might think this is an obvious suggestion, however you'll be surprised how many people try to skip touring multiple communities and rush their decisions based on recommendations from others. Remember, that some soda drinkers like Coke and others like Pepsi. Personal preferences vary greatly, especially as folks grow older.
Odds are this is your first time researching assisted living communities. You will quickly learn just how important getting an in-person experience at each community can be. It's wise to start your search online and gather as much data on communities that you can including narrowing down options based on cost, location, and reviews. Once you build your shortlist, then it's time to get the real lowdown by visiting the community.
The main purpose of visiting an assisted living care community is to get an idea of what life would be like for your loved one in that environment. This is so important because its best to avoid having to move out and find another community after that transition. During the tour make sure you speak with the staff and residents because they are the most vital part of setting the tone or environment in the community. Evaluating for fit is something you can do, or you can bring your loved one on the tour to help with that evaluation.
Chances are your loved one will be excited to tour the communities with you, but there is a small percentage of those who might not be, so it is helpful to understand how to get the most out of the touring process so that you can effectively talk about the future with your family members.
Start your assisted living search by finding all of the communities near you. Enter your city or zip code in the search box below.
Planning and preparing for a community tour
After you've narrowed down your top communities, set up an appointment to take a guided tour of the entire grounds. Here are the first two things to think about while making your plans.
How many communities should you tour?
The answer to this question will depend on what you are looking for, but we would recommend visiting at least 3 similar communities before making a final decision. If you are considering different types of care or evaluating communities of dramatically different size, make sure to visit enough comparable communities to properly evaluate your options.
If you are considering a community far away from your loved one's home, make sure that you leave time for exploring the local area to familiarize yourself with the neighborhood around each community.
What time should you visit the community?
The time in which you visit a community can greatly impact the energy of the tour, the number of residents you encounter and your overall perception of the community.
If it's an assisted living near you, you can easily make it in time for a morning tour. These tours generally will have more residents up and active throughout the community as most activities take place during the hours before lunch. During mealtime or a scheduled social event is also a good idea as it will give you an accurate representation of how much activity is going on during peak social hours.
Prior to touring, try to ensure all essential staff you'd like to meet with will be available while you are there. Top medical staff, nutritionists, managers, and class instructors can all make or break whether you feel comfortable leaving your loved one in their hands.
Once you arrive at the community
While on the tour itself, pay close attention to the happiness of the residents, the friendliness and accessibility of the staff, and the overall cleanliness of the community. These are all good first indicators that the management is involved in the betterment of the community. One secret tip we'd recommend is to visit the guest bathroom. If that is not clean, what does that mean for the rest of the community?
As you proceed along the tour, there are several different topics that are likely to come up. Here is a helpful list of what we would consider some of the more important questions to ask. For our comprehensive list of 74 questions, click here.
Community tour questions
Ask about the other residents
Similarly to how you would try to understand who your new neighbors would be if you were to move into a new house, it is a good idea to understand what other types of residents are in the community. Assisted living communities are often great places to build new friendships late in life, so you want to make sure that your loved one will fit in well with the different age ranges and health of the other residents.
This is one of the most overlooked things on a tour; good food can help any resident feel much more comfortable in a new environment. When visiting, try to get an idea how meal time is handled. Do residents sit together or are they free to eat wherever they want? How often does the menu change? Can your loved one make adjustments or arrange special requests?
Ask about activities and amenities.
The social aspects of any community are what your loved one is likely to be the most interested in and rightly so.
Make sure your visit includes at least one activity. Try to get an idea on how many residents are involved and what the overall activity structure is like. Does it match the energy level your loved one is looking for?
Most communities will have a scheduled activity and social calendar available to the residents which you can look at to get a better idea on the types of classes available. If you are not able to visit or observe one of the activities or classes your loved one is looking forward to the most, ask to speak with the instructor of that activity or one of the other residents who have participated in the past.
Ask about family visitation
Find out the details about family visitation. Most communities will have a pretty open policy for family members, but it is always best to get details from each individual community as you are touring them.
Ask for materials to bring home with you
After you have spent the time going to visit a community make sure you take a few items home with you. This will help you remember the experience and assist in your evaluation process.
Here is a quick list of items/information you should try to leave each community with:
Room floor plans
Meal/food calendar
Activity calendar
A family member reference
Also, make sure to take photos while you are on the tour so that you can share them with other family members and begin helping your loved one to think about what life would be like at a community.
Speaking with the residents
We believe this is one of the most important things you can do during your visit to the community. It is the only way to get honest feedback on the community.
Often, there will be a resident liaison who is scheduled to talk with you during your tour. If not, ask the person giving you the tour if they are able to arrange a meeting during your visit with someone who already lives in the community. If they are not, make sure you leave enough time for you or your parent to seek out and find someone to talk to.
For those loved ones who are ambivalent about moving into a community, speaking with a happy resident can be a big influence in helping them through the decision process.
After the tour
Once you have visited all of the communities you are considering, you are now able to sit down with your loved one, and the rest of your family to make a decision. As with any decision in your life, it is always important to have as much information as possible to help make your choices that much easier.
Review the materials you left each tour with and if necessary, make a list of additional questions for each community. Try and set priorities for your loved one in the decision making process – What do they care about most? The type of room, excitement of the activities, or proximity to family. Remember, Coke and Pepsi. This process is not the same for any two people. Identify what is important and then begin the evaluation.
If you are looking for more information on some of the common questions associated with assisted care homes for seniors, you can read our assisted living FAQ here.
For your loved one, the move into an assisted living community can seem like an intimidating decision. With so many factors to consider, it is important that you and your family take the right steps to ensure you help them get the care and attention they need.
It is during these times of transition in life, when older people really benefit from having a close, loving relative willing to help them find a home to love.
Review our other articles on assisted living:
For more resources on assisted living, click here.