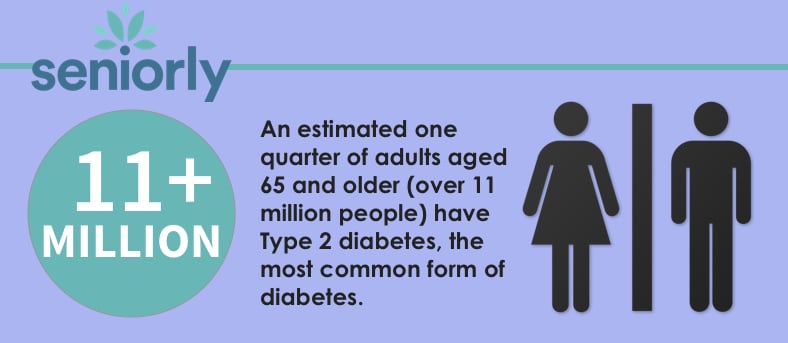 An estimated one quarter of adults aged 65 and older (over 11 million people) have Type 2 diabetes, the most common form of diabetes.
Type 2 diabetes occurs when the body is not able to use the insulin it makes to break food down into the sugar we need for energy. Not only is diabetes itself dangerous, but it increases the risk of other problems and decreases our ability to recover from illnesses. Older adults with diabetes often have high blood pressure, high cholesterol, or erectile dysfunction. They tend to heal more slowly from infections. They are at greater risk for heart attack, stroke, and kidney failure and are more likely to have memory problems and depression than those without diabetes.
Unfortunately, many older adults with diabetes have not been diagnosed and yet early detection is extremely important to prevent or minimize the risk of these problems.
Common symptoms of diabetes include:
Urinating often

Feeling very thirsty

Feeling very hungry even though you are eating

Extreme fatigue

Blurry vision

Cuts or bruises that are slow to heal

Tingling, pain, or numbness in your hands or feet
If you are experiencing any of these symptoms, make sure you talk about it with your doctor. Unlike Type 1 (sometimes referred to as juvenile diabetes), the risk of developing Type 2 diabetes increases as we age, so ongoing monitoring is important.
Managing Diabetes
Environmental and lifestyle factors play a big role in determining our risk for diabetes and in managing its effects.
Managing diabetes in senior housing is not that different from managing diabetes in any other setting. In a senior housing community, you may have access to more help, but good diabetes care no matter where you live includes three main things:
Tracking your glucose levels. Make sure your doctor regularly checks your glucose. If you have higher than normal levels of glucose in your blood, you may also want to check it regularly yourself. It's easy to do and the staff at a senior housing community are trained to help you.

Eat healthy. Senior housing communities are well-equipped to help you eat healthy. In fact, healthy eating for people with diabetes is really the same as healthy eating for everyone. That means eating foods low in saturated and trans fats, moderating how much salt and sugar you eat, and eating balanced meals with lean protein, non-starchy vegetables, whole grains, healthy fats, and fruit. You'll be happy to know that desserts and sweets are not out the question, but should be limited. Processed foods labeled as "diabetic" are generally more expensive without any added benefit.

Get daily exercise. Exercise is important for lots of reasons. Aerobic exercise such as walking, dancing, swimming or bicycling is especially good for keeping your blood glucose level where you want it to be. Many senior housing communities have a fitness center on site and staff-led fitness programs to help you stay fit.
Diabetes is a serious disease. It causes more deaths a year than breast cancer and AIDS combined and nearly doubles the chance of a heart attack. It's not to be taken lightly.
But, diabetes can also be controlled and the risks reduced with proper management. Seniorly can help you find a senior housing community that will best meet your diabetes care needs.

Seniorly is the trusted resource for comprehensive information on senior housing options. Visit www.seniorly.com or call us at (415) 570-4370 to speak to one of our family coordinators today!