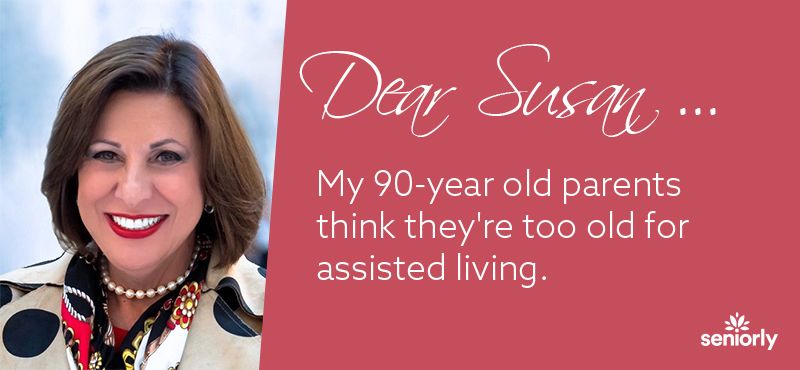 Dear Susan,
I would like to move into a nearby assisted living community, but my husband has early on-set Alzheimer's. Are there options for us so we can stay together, but ensure he is getting the kind of care I can no longer provide?
Seeking Options
Dear Seeking Options,
This is a frequently asked question that has a different answer depending on where you live. Let me explain. Assisted living is regulated by each state. So an Assisted living in one state will have different regulations from it's neighboring state. This means, depending on state regulations what is allowed or permitted regarding caregiving in one assisted living community may be prohibited in another. That said, here is what I recommend:
Only look at assisted living properties that have a dedicated memory care neighborhood. Even if your husband does not need that level of care now, it's reassuring to know it's there when needed.
It's beneficial if the assisted living property has a nursing home on its campus or at least very close by.
No one knows how the disease will progress or how the symptoms will manifest themselves. These options will enable you to be in close proximity even if and when you can no longer reside in the same apartment. And the last thing you need is to be forced to make another move in the midst of a crisis. Please know there is no "right or wrong" answer. You are wise to be exploring options now. Remember to do what is best for YOU as well as your husband! Good luck and feel free to write me again with any additional questions.
To start your search for an assisted living community near you, just enter your zip code into the search box below.
------
Dear Susan,
I am very worried about my mother who lives alone. For as long as I can recall she has been well dressed, coiffed and made up on a consistent basis. As her son, I must admit, I have always been proud of my "fashionista" mom! Lately, when I visit, I have noticed that she wears the same clothing (something she never did before) and looks a bit disheveled. Not sure what's going on or what I should do without hurting her feelings?!?
Bewildered in Buffalo
Dear Bewildered,
Kudos to your dear, well put together mother for always taking such good care of herself. And kudos to you for noticing such a significant change. First of all, I would encourage an appointment with your mother's primary care physician (PCP). He or she can determine if there is anything clinically wrong, such as an infection.
Once her PCP has cleared her, it may be time to explore an assisted living community. As we age, the burdens of day to day living can be overwhelming. Coupled with that is the extra effort good grooming takes. As we age, it takes increasing efforts to look our best.
Cooking, cleaning, and other personal chores can all be alleviated in assisted living, as well as being able to maintain a social life. I have seen this success time and time again. In the right assisted living community, your mom can relax and focus on what she enjoys and you can have your dear mother look and feel herself again!
------
Dear Susan,
My 90-something-year-old parents and I looked at an assisted living community but they came away saying everyone there was "old!" My parents were obviously older than many of the people living there. Please help!
Frustrated in Fresno
Dear Frustrated,
I would be a very wealthy woman if I had a dollar for every time I heard this comment! Please be patient. We see ourselves everyday. The changes on the outside are so gradual that we don't notice them until we look at photos of ourselves when we were young. More important is that while our exterior changes, we feel the same on the inside. To understand, think of the last class reunion you may have attended. You may have observed that some of your classmates "didn't age well." Well, they may have been saying the same about you. The older we get, the younger the number feels and no one, no one wants to be referred to as "old!" It's human nature!
I assure you there are very vibrant people residing at many assisted living communities. Here is my recommendation for your next attempt at touring properties. Strategize with the community sales director and set up a luncheon appointment where a resident "ambassador" joins you and your parents. Remember it's a process and springtime is the perfect time to embark on this journey!
------
Thank you everyone for your questions. Please keep writing to me with your senior living challenges and I will do my best to provide some guidance. You can write me anytime at susan@seniorly.com.
To read previous "Dear Susan" columns, click here.