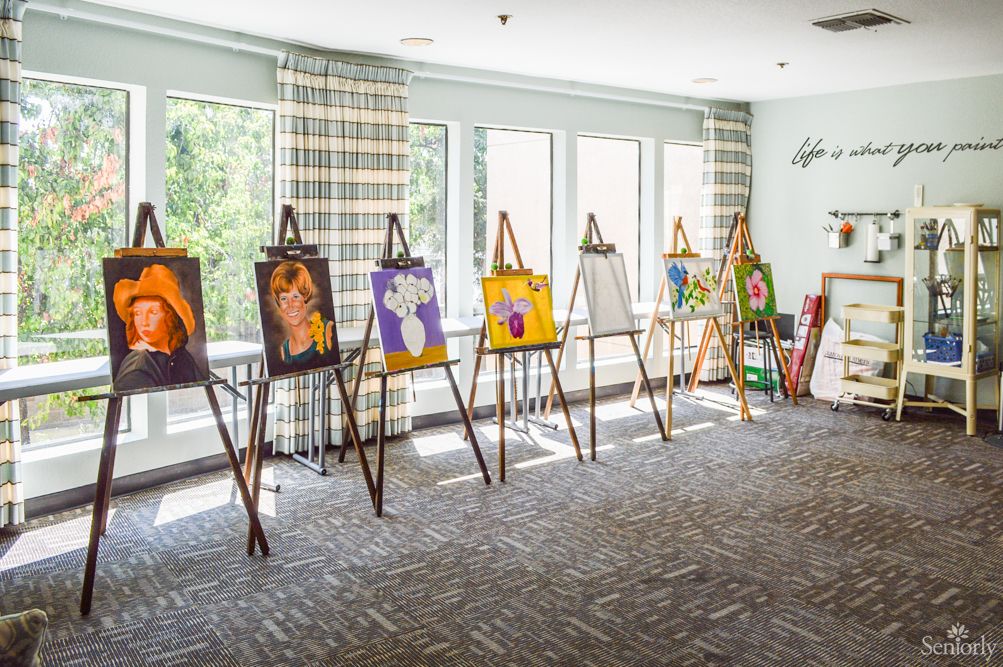 Defining what the best value requires we take into account the varied aspects of the assisted living experience. From a maintenance free lifestyle to ensuring your care needs while staying fully engaged, everyone has different points of consideration before making a choice. Often budget and location are the primary drivers but an open market allows one to differentiate between options in the same range. Here at Seniorly, we took a look at some of the best value assisted living experiences in Sacramento. We looked at aspects like amenities, room size, and services provided relative to the total cost. So without further ado, here are some of the best value assisted living communities around Sacramento.
Golden Pond is a large retirement community that provides independent living, assisted living and memory care with a licensed capacity for 175 residents. The community is newly refurbished and boasts old growth trees, a park area close to churches, shopping and schools, with easy access right off of Highway 50 and Bradshaw Road. With spacious rooms and a host of amenities ready to choose from all at an affordable price, this community is a worthy inclusion in any list of best value communities in the area.
Walnut House is another large assisted living community located in Carmichael. It is conveniently located in a quiet neighborhood, close to churches, medical facilities, shopping and banks. With a licensed capacity of 110 residents, the accommodations are peaceful and cozy and personalization of one's room with own furnishings are highly encouraged. With a history since 1978 as a family run business, Walnut House is adept at providing care for a wide range of needs including Parkinson's, Diabetes and end of life care.
Citrus Heights Terrace offers easy suburban living just north of Sacramento. This medium sized community with a capacity for 45 residents specializes in caring for those with Alzheimer's disease or other dementia, from mild cognitive impairment to advanced memory loss. This memory care focussed community is comparatively very affordable and boasts of highly trained caregivers who have received specialized training for memory care needs. One of the things that sets Citrus Heights Terrace apart from other communities is the longevity of staff. Some staff have been with us over 18 years.
The Chateau at Carmichael Park features around-the-clock staff, life-enhancement activities catered to residents' specific needs, and a signature Memory Day Program for seniors with memory loss. This medium sized community, with a licensed capacity for 49 residents, is a pet-friendly community, and residents are encouraged to participate in the variety of social and recreational programs provided to maintain physical and social abilities, and to cultivate engaging relationships with friends and peers. With classically trained chefs, they offer gourmet dining in their restaurant style dining rooms and also have fitness rooms to work off those meals!
Domnita's Home Care is a smaller board and care community with a licensed capacity for 6 people located in Roseville. Board and Care communities offer a much more affordable option for residents requiring high care needs. This home is beautiful and clean and located with easy access to the interstate 80. Owner Domnita Nicula has been licensed for over 8 years and the home itself is beautiful and clean, where the individual patient /resident rooms are lovely. The meals are healthy and home cooked.
We hope that our list of best value communities help you in your decision to find the community that best fits you. If you need more help, schedule a free consultation with a gerontologist here!