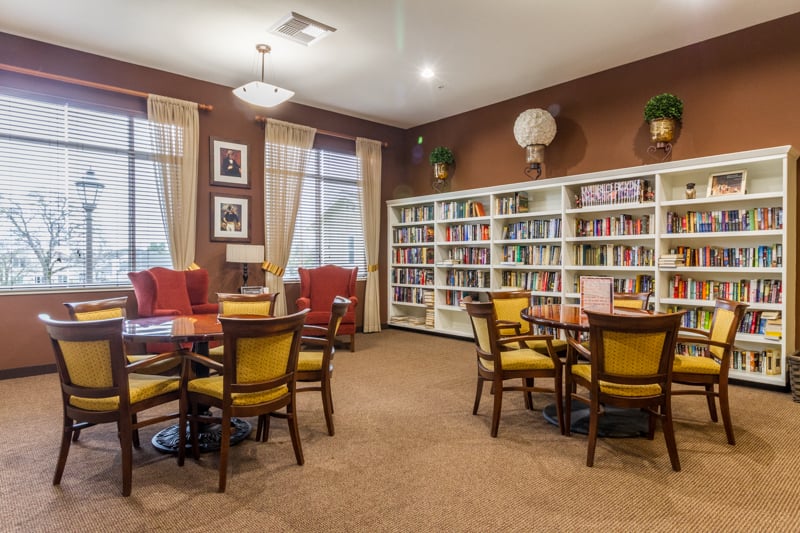 If you'd like to donate your time and make a big difference in the lives of others, consider volunteering in a senior housing development. Here are a few ways you can make a large impact on the lives of many by investing just a little bit of your time.
1.Consider Regular Visits
Many seniors don't have family nearby and therefore lack visitors. Coming in on a monthly or bi-monthly basis to visit and just say hello to residents can go a long way!
2. Bring Your Children With You
If you have young children or grandchildren, consider bringing them along. Seniors love visiting with little ones, and you'll be teaching your children how much they can learn from the older generation. Come with interesting questions that your kids may enjoy learning about, such as what life was like fifty years ago before the smartphone.
3. Pet Therapy
If you'd like to bring a special pet in for visits, contact the facility in advance and ask about their guidelines. Many seniors find comfort and stress relief just from spending a little time with a beloved dog or cat. And your pet will go home very happy to have received so much love.
4. Contribute a Special Skill
Whether you're an artist, have a hobby or craft you'd like to share, or are talented in the kitchen, you have skills residents would love to learn about. If you're a technical genius you could help someone out with his or her laptop, tablet or phone.
5. Have a Resident Help You Out
Seniors may be retired, but that doesn't mean they don't have a thing or two to teach you. Whether it's a knitting lesson, gardening tips, or help from a retired CPA on your taxes, seniors have a lot to offer. And making someone feel needed may be the biggest impact you can make.
6. Be a Dining Companion
Some seniors just miss sharing a meal with someone new. Many senior-housing facilities will let friends and family members eat in the dining room for a minimal fee. Check with the facility ahead of time and they can probably point you to someone who would love to have the occasional lunch or dinner companion.
7. Offer Trips to The Store
Some senior residences have planned grocery and shopping outings, but that doesn't always work for everyone. There are people who may not feel well enough to go at times, or may just not be comfortable going with a large group. Contact the facility and ask if you could do errands for someone in need.
8. Take Seniors to Doctor Appointments.
Taking a senior to a doctor appointment is such a relief for both the individual and their family. You will be doing a lot of good for someone, particularly a resident who does not have family members close by. If you can also help get a prescription filled after the appointment, even better.
9. Share Your Love of Music
Whether you play an instrument or just have an appreciation for music, you will find no better audience than at a senior housing community. Music is known to trigger memory and even help with dementia. You only need your iPhone and a couple of portable speakers to be an instant hero. And if you make a playlist from the big band era, that will be a huge plus.
10. Contact a Senior Community in Your Area
Sometimes just asking what kind of volunteering is needed is the best way to help. Call or stop by a senior community close to you and ask to speak to the facility director to get some ideas. Or give them some of your own and start making a difference in someone's life.
For more information regarding residential care facilities that meet your family's needs, visit Seniorly. Or call us at (415) 570-4370 to schedule a free care consultation with our gerontologist! Click here to learn more about assisted living.