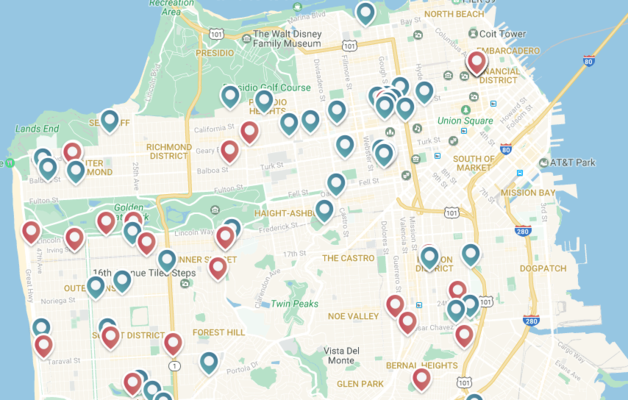 When it's time to consider a move to assisted living, you're in luck. San Francisco has some of the most innovative communities in the country. Whether you're looking for yourself or a loved one, you can find just about any level of care at these beautiful communities as well as the ability to age in place—that means if your needs change over time, you won't have to move again. And you won't believe the wide range of amenities these properties have to offer. Here are just a few of the top rated assisted living communities in the San Francisco area:
Located on Van Ness Avenue at Geary Street in the heart of San Francisco's world-class culture, are designed specifically with you or your loved one in mind. A newly constructed, award winning assisted living community, staffed 24 hours a day, seven days a week with a team of dedicated and caring professionals. Amenities include: An in-house bistro with around the clock access to beverages and snacks as well as cooking classes and demonstrations; a sunroom for gathering and relaxation; a full service salon and spa and a computer lab with instructors on site. They have many Mandarin and Cantonese speaking caregivers as well.
Conveniently located atop Cathedral Hill in the heart of San Francisco, welcomes residents home to a distinguished boutique retirement community. Choose from several condominium floor plans; along with a customized assisted-living care plan designed specifically for you. And should your medical needs change—they'll be able to change your plan accordingly. Enjoy amenities like elegant and private dining rooms, social, educational and recreational activities including a variety of class offerings like yoga and Tai Chi.
Since 1998, has been a vibrant assisted living community and is an integral part of the Pacific Heights neighborhood. It is the flagship community of Episcopal Senior Communities (ESC). Choose from many different apartment sizes and layouts. In addition to being in the midst of all the charming Pacific Heights neighborhood has to offer, you'll enjoy the security and peace of mind knowing the Health Care Center provides therapeutic programs to keep you at optimal health. They also offer a full spectrum of services for rehabilitation, skilled nursing care, restorative care and hospice care.
When you walk into this property, you'll feel like you're home, in the exceptional San Francisco Marina district, offers assisted living at it's finest. Once you meet the friendly staff and feel the warmth and comfort of the home-like atmosphere—you'll be sold. Residents enjoy an engaged and simplified lifestyle. With a wellness program and a full continuum of care, you or your loved one will enjoy all the amenities they have to offer.
Many call it the "jewel" of San Francisco assisted living. Built on a foundation of not-for-profit values and Jewish principles, this retirement community welcomes residents of all faiths. At Rhoda Goldman Plaza, you'll experience exceptional dining, on-going activities and events, fitness center and wellness clinics, transportation for shopping and doctors appointments along with an exceptional staff, who will get to know you personally.
Cypress at Golden Gate is an assisted living community in San Francisco that offers both assisted living and memory care (Alzheimer's and other dementias). The community was originally a hospital, but went through a multi-million dollar renovation and is now considered one of the nicest communities in San Francisco.
Coventry Place is an assisted living community in San Francisco, CA that offers both assisted living and memory care (Alzheimer's and other dementias). The community is located in the Pacific Heights neighborhood, and is in walking distance to Japantown and Whole Foods market on California and Franklin Streets. There are three levels of residential living for independent living, assisted living, and memory care.
Additional Resources
If you need assisted living services but are not currently able to make a move, be sure and contact the Institute on Aging, a San Francisco, CA-based non-profit dedicated to helping aging adults with resources and support.
To learn more about San Francisco assisted living and all the communities that serve your area, be sure and visit Seniorly for the most current information.