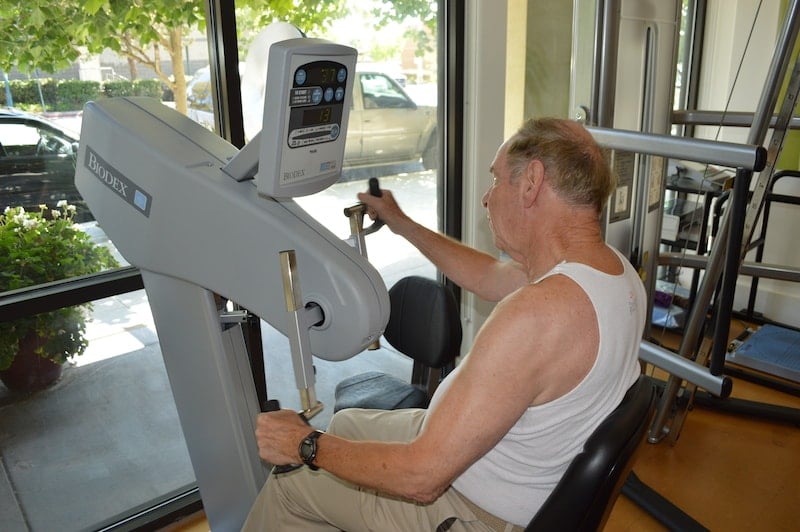 There's no denying the medical evidence that says staying physically fit and active is good for you. But as you age, it becomes even more important.
Recent Studies have shown that being active and exercising regularly can prevent or delay heart disease and even dementia. And in many cases, exercise is an effective treatment for people with chronic conditions like arthritis, diabetes and high blood pressure.
Fitness has also been known to help keep cognitive skills sharp in elderly people. A study published in 2009 has shown that exercise improves the flow of blood to the brain and enhances the functionality of certain neurotransmitters involved in cognitive functioning.
Moderate, regular exercise can even help manage stress and improve your mood when you get older. Some researchers even think it can help stave off dementia.
So how are today's retirement communities responding to the importance of physical fitness and staying active later in life? Of course, the answer varies by community, but overall, today's communities offer many fun ways to stay fit and healthy throughout retirement years.
Del Webb Retirement; Sun City, Arizona
Deborah Blake, director of creative content at Del Webb says, "When it comes to fitness, the expectations of our customers are much higher, and they're much better informed than they once were."
At Del Webb, a key part of the program is the fitness facility. Blake continues, "The kidney shaped pool is not going to get it done anymore. Our pools now have swimming lanes and often we have walking paths against the flow of water so we can help people rehabilitate from knee injuries."
The physical dimensions of the fitness centers are also larger, as well as the offerings. Residents can now sign up for personal training and weight training sessions. Yoga, meditation, wellness and nutrition classes have also expanded to keep up with the growing need for fitness activities.
In some retirement communities like Del Webb, fitness centers have replaced golf courses as the favorite activity.
Trilogy at Monarch Dunes, California
This Trilogy retirement community features a comprehensive athletic club complete with state-of-the-art cardio and weight training equipment, personal training, an aerobics studio and a full service spa.
In addition, there are two golf courses to choose from: an 18-hole Old Course and the 12-hole Challenge Course.
Bermuda Village, North Carolina
At Bermuda Village, staying fit is an important part of the daily routine. Residents enjoy a heated indoor pool, an exercise equipment room, steam and sauna rooms, as well as a hot tub for relaxation.
And fitness doesn't stop there. You'll also find the community stocked with croquet and bocce courts, billiards and Ping-Pong tables, Wii fitness games and Pilates classes. There are even walking and balance classes with complimentary personalized workouts by a certified instructor.
Tournaments and mixers are also routinely scheduled and so resident's social calendars can stay as full as they desire.
On top of all of that, look for health and wellness lectures, relaxation seminars, nature outings and "brain games."
Suffice it to say, retirement communities are stepping up to the challenge of keeping residents more physically active as they age. Combined with their ever-increasing quality of care, these features make today's retirement communities more of an attractive option than ever before.
For more information on fitness and staying active in a retirement community, check out this post on the Seniorly Blog.
For more information regarding residential care facilities that meet your family's needs, visit Seniorly. Or call us at (415) 570-4370 to schedule a free care consultation with our gerontologist! Click here to learn more about assisted living.